Les capteurs ultrason PROWAVE fonctionnent à des fréquences de 25 à 320 KHz.
Il existe peu d'usines dans le monde pouvant réaliser les céramiques pour les capteurs ultrasons.
Grâce à  l'expérience et la production en Asie de ces capteurs, nous obtenons un coût remarquable tout en garantissant une grande qualité. Le diamètre des capteurs les plus petits est de 4 mm.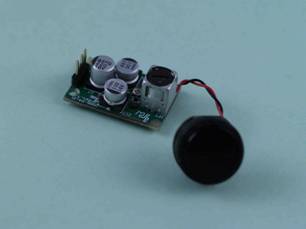 MODULE SONAR
Référence
Tension
Courant
Fréquence
Distance
de mesure
Dimensions
PDF
SRM400
6 - 12V DC
<30 mA @ 12V DC
Réglable
25 – 150 cm
27.9 x 18 mm
Le module SRM 400 est fourni avec un transducteur 400EP14D dont les caractéristiques sont les suivantes : 
Attention: The internal data of table "77" is corrupted!